DOMINIQUE MOULON
COMMISSAIRE INVITÉE : ART NOUVEAUX MÉDIAS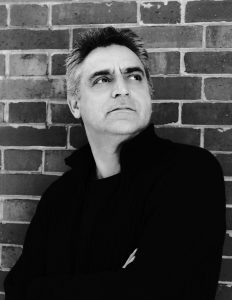 ABOUT DOMINIQUE MOULON
Art critic and curator, Dominique Moulon studied visual art at the Fine Art School (ENSA) of Bourges and holds a Master's Degree in aesthetics, science and technology from the University of Paris 8. He is a member of the Observatory of Digital Worlds in Humanities (OMNSH), of the International Association of Art Critics (AICA) and of the Opline Prize for online contemporary art. Founder of MediaArtDesign.net and MoocDigitalMedia.paris ; he also writes articles for Art Press, Digital MCD, The Seen and Neural. He is the Artistic Director of the media art fair Variation (Show Off) Paris. Dominique Moulon teaches digital media at EPSAA (Ecole Professionnelle Supérieure d'Arts Graphiques) in Paris, ECV (Ecole de Communication Visuelle) and Parsons (The New School for Design). He has also been a regular guest professor at the School of the Art Institute of Chicago (SAIC), the National School of Fine Arts (ENSBA) in Paris, The Fresnoy (Studio national des arts contemporains) and the University of Paris 8. Author of the books Contemporary New Media Art and Art et Numérique en Résonance, he is doing research at the laboratory Art & Flux (CNRS) of the University of Paris 1 Panthéon-Sorbonne while preparing his next book on the relationships between art, technology and society. As an expert in digital cultures, he has also been sollicited for his input by some companies like SFR, Accenture, Drouot, Renault, l'Oréal Google, Axa or Landor.
ABOUT HIS ARTJAWS COLLECTION :  VARIATION MEDIA ART FAIR
Throughout the world, a few media art fairs are popping up here and there, while Variation continues to pursue its mission. Now in its third year, this singular Parisian salon and expo comes to the Cité Internationale des Arts. The importance of this venue becomes apparent when we consider the blank walls of its gallery situated in the Marais. Variation's mission, ever since it was founded in 2014 by Art2M—Art to Machine—is to extract media artworks from the black box of technology and the Internet in order to recontextualize them within the white cube. That is, to present them in an environment that is all too familiar to collectors and institutions, in Paris, to coincide with the third week of October dedicated to contemporary art. Anne-Cécile Worms, who produced the event, also initiated the ArtJaws marketplace, as she knows how important the market is to the survival of artworks made from any media. At Variation, there are no stands, so that the artworks are "free" to dialogue among themselves. The other characteristic of this exhibition is that all the pieces were selected by independent art critic and curator Dominique Moulon, in direct collaboration with the artists and their galleries or agents and producers. The idea was to highlight the various digital media practices of a singular contemporary art, as others have also begun to do this year: Musée d'Art Moderne de la Ville de Paris with Co-workers, and Whitechapel Gallery in London with Electronic Superhighway. There is a growing interest in works that document the world through technologies, which are the source of its deepest mutations. This interest goes beyond large international digital arts biennials such as Nemo in Paris and BIAN in Montreal. This interest also comes from the "users" that we have all become. Moreover, we believe that it is important, if not necessary, for artists using the technologies of their time to offer their own critique. Through art, Variation investigates the major social problems that are emerging from our common use of digital media, especially the Internet. And because it's also about sharing, entry to the Variation exhibition at Cité International des Arts will be free of charge from October 18-23, 2016.
THE ARTISTS OF VARIATION MEDIA ART FAIR