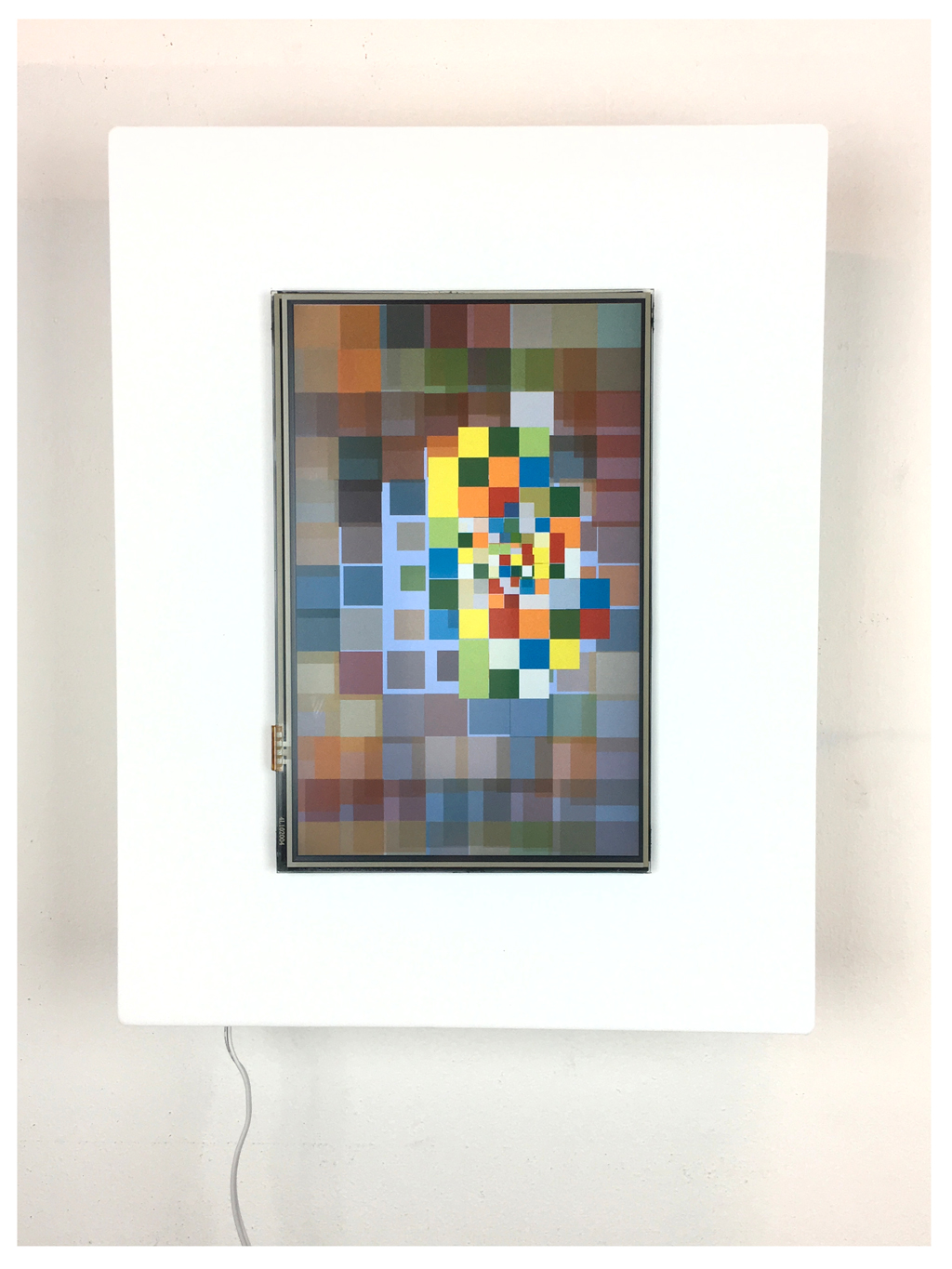 Blossoming – 2018
Acrylic Plastic, Raspberry Pi Computer, LED Touch Screen, Custom Software – 11 X 14 X 3 inches
John F. Simon, Jr. is a widely exhibited visual artist and author of "Drawing Your Own Path" (Parallax Press, 2016). His software artwork was recently featured in the Whitney Museum of Art's 2018-19 exhibition « Programmed: Rules, Codes, and Choreographies in Art, 1965–2018 ».  As one of the pioneers in the development of Software Art,  his seminal work « Every Icon » was included in the 2000 Whitney Biennial. The Guggenheim Museum commissioned 'Unfolding Object' in 2001 and relaunched an updated version online in 2018.  In October 2005 the Whitney Museum of American Art and Printed Matter published Simon's artist's book and software CD, « Mobility Agents », a computational sketchbook based on Paul Klee's Pedagogical Sketchbook. In 2011, Simon collaborated with Icelandic singer Björk to write an app for her album, Biophilia, the first app album ever created – the source code is now part of the collection of the Museum of Modern Art in New York.
Simon's artworks can be found in the permanent collections of The Whitney Museum of American Art, The Solomon R. Guggenheim Museum, The Museum of Modern Art in New York, Collezione Maramotti, The Brooklyn Museum, The Los Angeles County Museum of Art and The San Francisco Museum of Modern Art, among others.
His work has international exposure, including large surveys such as Media City Seoul 2002 (Seoul, Korea) and Flower Power at the Musee des Beaus-Arts in Lille, France. He has had a solo show with Galeria Javier Lopez, 2008 (Madrid, Spain) and a retrospective with a catalog at Collezione Maramotti, 2009, (Reggio Emilia, Italy).
John F. Simon, Jr. grew up in central Louisiana and studied Geology and Fine Art at Brown University. He went on to earn a Master's of Science in Earth and Planetary Science at Washington University, and an MFA in Computer Art at the School of Visual Arts in New York City. Simon currently lives and works in Sugar Loaf, New York.
ARTJAWS EXIBITION NEW YORK MAY 2019 - ABOUT THE ARTWORK: BLOSSOMING
This custom software edition is inspired by Paul Klee's 1934 painting 'Blossoming', enacting simple rules in complex ways to explore Klee's systematic, modernist approach to color and composition. Returning to his love of time-based color studies, Simon now layers in the experience he has gained over the last 20 years working daily with pencil and gouache on paper.