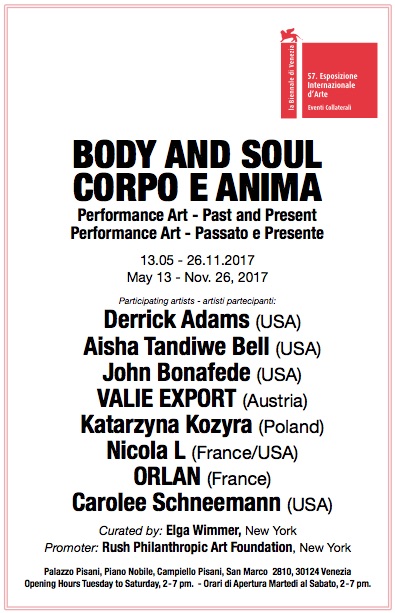 From May 13th to November 26th 2017 the 57th International Art Exhibition Venice Biennial presents a performance art exhibition. The curator Elga Wimmer will present works from Derrick Adams, Aisha Tandiwe bell, John Bonafede, VALIE EXPORT, Katarzyna Kozyra, Nicola L, ORLAN and Carolee Schneemann. 
From May 10th to May 12th, "Body and Soul: Performance Past and Present" will present many performances. The exhibition consists of eight performance artists appear in live performances and in video or photographic documentation, wich records the essence of their spiritual and bodily actions. Performance art is a kind of "theater" and very often interactive if not always physically, then emotionally and spiritually and always demands a response from the viewer.
This exhibition is focused on the body and the performance. Performance art is not an "outsider" form of art anymore for the curator Elga Wimmer. Throughout the duration of the Biennial, performances by some of these eight artists will be held on specific days.
VALIE EXPORT, Nicola L, ORLAN, and Carolee Schneemann, pioneers of Performance Art, use their bodies to express concerns related to gender, feminity, endurance, personal relationships, and politics. They are forerunners of today's performance art and have paved the way for many of today's artists.
More information about the Venice Biennial here