CONSTANCE JULIETTE MEFFRE
GUEST CURATOR : NEW MEDIA ART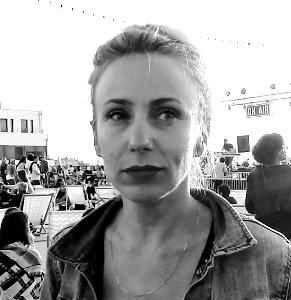 ABOUT CONSTANCE JULIETTE MEFFRE
Constance Juliette Meffre is an artistic producer and curator. After being Assistant of Preservation at the Pierre Gianadda Foundation (Switzerland), she was in charge of the production of « Instants Vidéo Numériques et Poétiques » and developed with them the 50 years anniversary of video art in Japan within the framework of Marseille, Capital of Culture 2013. Since late 2013 she has created and now manages Diffusing Digital Art at the Galerie des Grands Bains Douche in La Plaine, Marseille, and contributes to the creation of an international network of residencies in different places and with different artists. She also supports the artistic production all along its creative process, working closely with artists and cultural institutions, and is a member of the C-E-A, the French association of art curators.
ABOUT HER MONOGRAPHIC COLLECTION FOR ARTJAWS "ARCHIVE OF A STRIKE"
Paul Destieu's practice includes the creation of videos, installations and sound works. Destieu questions the evolution of the media and their situations in our current environment. The project entitled "Archive of a Strike" is focused on the materialization of sound and musical forms. This work suggests a collision of sound and plastic structures by inviting visual practices and contemporary media in a sensitive re-reading of musical languages. The project combines a series of polymorphic creations, resulting from the capture and the analysis of the movements of a percussionist drummer, focused on the emerging tensions between the musician and his instrument. This experiment is based on the temporal and spatial deployment of a gesture, the chopsticks mechanically translating a relation to time by the interpretation of rhythm, and of sound by a physical development. Each stage of the production chain successively proposes a digital appropriation of this unique gesture. Once captured, modelled and printed in three dimensions, the stroke is extracted from its context to freeze the counter-form of the interpreter and the instrument. The archive brings together a series of works between listening and seeing.
THE ARTIST OF "ARCHIVE OF A STRIKE"
THE ARTWORKS OF "ARCHIVE OF A STRIKE"