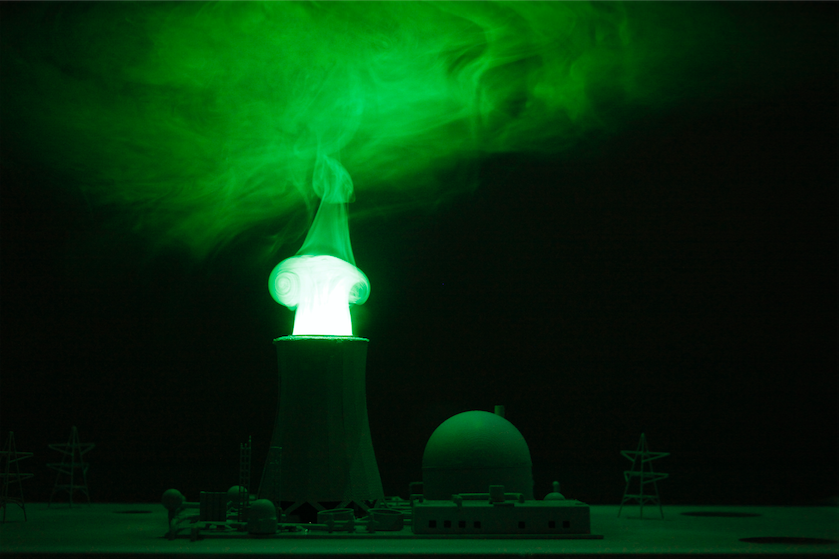 Héhé / Jean-Marc Chomaz , "Fleur de Lys", 2009 © Héhé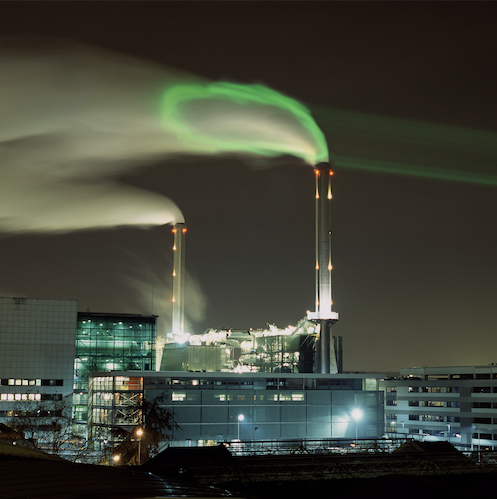 Héhé, "Nuage Vert", Ivry, 2009 © Héhé
From March 31 to June 3, 2018, EDIS continues its exploration of the hybrid forms of visual culture in the digital era within the Avignon's former salt storehouse Ardenome with "Planet Laboratory", the first major exhibition in France of the artistic duo HeHe (Helen Evans and Heiko Hansen), known for renewing our perception of the environment.
In this exhibition, artists unveil a significant selection of works created since 2007, supplemented by the in-situ installation "Radiant Tree" and an unprecedented creation entitled « Absynth » produced by HeHe in collaboration with the physicist artist Jean-Marc Chomaz (Ladhyx – Ecole Polytechnique) whose monumental version will be presented in March 2018 at La Villette, Paris, as part of the Nemo Biennale.
The exhibition is organized around two major recurrent themes simultaneously developed within spaces and yet maintaining a constant dialogue: ecological and domestic disasters on one side, and more or less utopian means of transport on the other.
Faithful to the fundamentals of HeHe's practice, the selection of works offered by this exhibition capture the atypical approach of this duo. Through a dozen major pieces, two of which original, the exhibition suggests a path that shows the extent and diversity of their plastic interventions: installations, videos, photographs, objects, but also written and filmed documentation retracing the experiments and performances made in the public space.
While the problem of air pollution is approached in a fluorescent color apocalyptic landscape through works such as "Toy Emissions" (2007), "Ozone Fields" (2007), "Green Cloud" (2008) and "Radiant Tree", "Taking Charge "(2011) questions the pollutant potential caused by the objects we use every day. Produced specifically for the Ardenome, "Radiant Tree", depicts a halo on a big oak with a phosphorescent green glow that evokes the contradictory dimensions of technological progress. « Absynth », another creation produced by HeHe in collaboration with the physicist artist Jean-Marc Chomaz (Ladhyx – Ecole Polytechnique), reproduces in the form of a diorama, the space of a forest that becomes the repository of spectral meteorological sequences. Designed in collaboration with the Hydrodynamics Laboratory of the Ecole Polytechnique (Ladhyx), this unique piece places the visitor in front of an almost supernatural spectacle questioning the ordinary gravity.
More information here