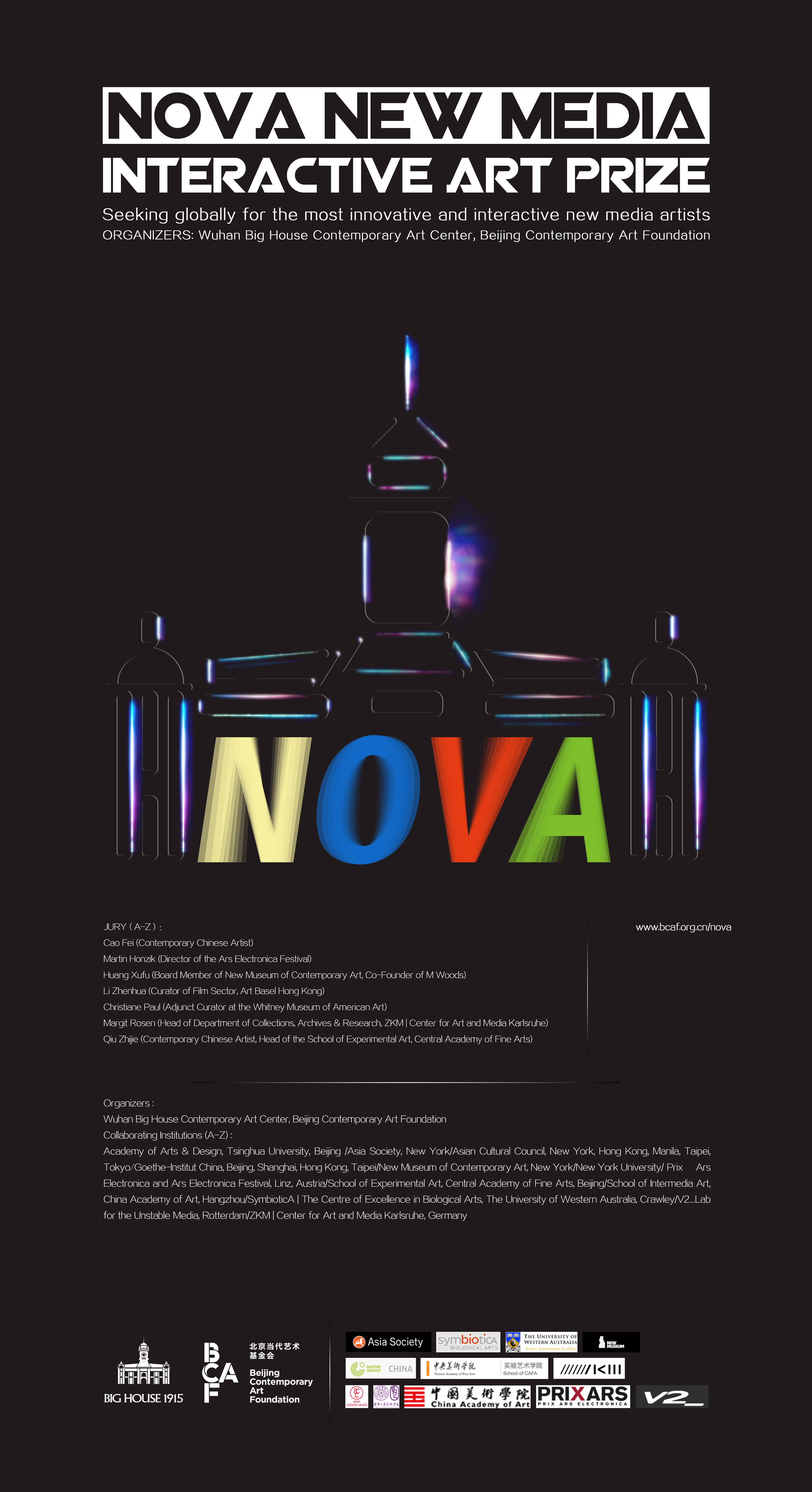 Initiated by Wuhan BIG HOUSE Contemporary Art Center and Beijing Contemporary Art Foundation, collaborating with an array of world's innovative art and cultural institutions, foundations, art academies, professional media services, and youth cultural institutions, NOVA New Media Interactive Art Prize aims to inspire and encourage young artists to break the boundary between art and technology and redefine the two disciplines. Until July 30, 2018, the call-for-entries is open to every media artists.
The NOVA Prize will annually discover an interactive art artist who is with great potentials of originality and independence, and provide the artist with a scholarship of 100,000 RMB (=15 000 dollars) as well as opportunities for international art residency, exhibition tour, media collaboration, academic research, and social projects for public awareness, etc.
Foothold on the present and look into the future. The NOVA Prize is dedicated to uniting artistic concepts and ideas with future-oriented technologies and exploring how the development of new technologies will influence new media art creation. In the meantime, the Prize will facilitate the communication between new media art and global audiences.
The winner will be announced on August 30, 2018 and will present his/her work at the Ars Electronica Festival in September 2018, at the Big House Contemporary Art Center, China in October and in New York City in January 2019.
The jury of the NOVA Prize is constituted by world's leading contemporary artists and curators, including Cao Fei (Contemporary Chinese Artist), Martin Honzik (Director of the Ars Electronica Festival), Huang Xufu (Board Member of New Museum of Contemporary Art, Co-Founder of M Woods), Li Zhenhua (Curator of Film Sector, Art Basel Hong Kong), Christiane Paul (Adjunct Curator at the Whitney Museum of American Art), Margit Rosen (Head of Department of Collections, Archives & Research, ZKM | Center for Art and Media Karlsruhe), and Qiu Zhijie (Contemporary Chinese Artist, Head of the School of Experimental Art, Central Academy of Fine Arts).
Source Beijing Contemporary Art Foundation – More information here