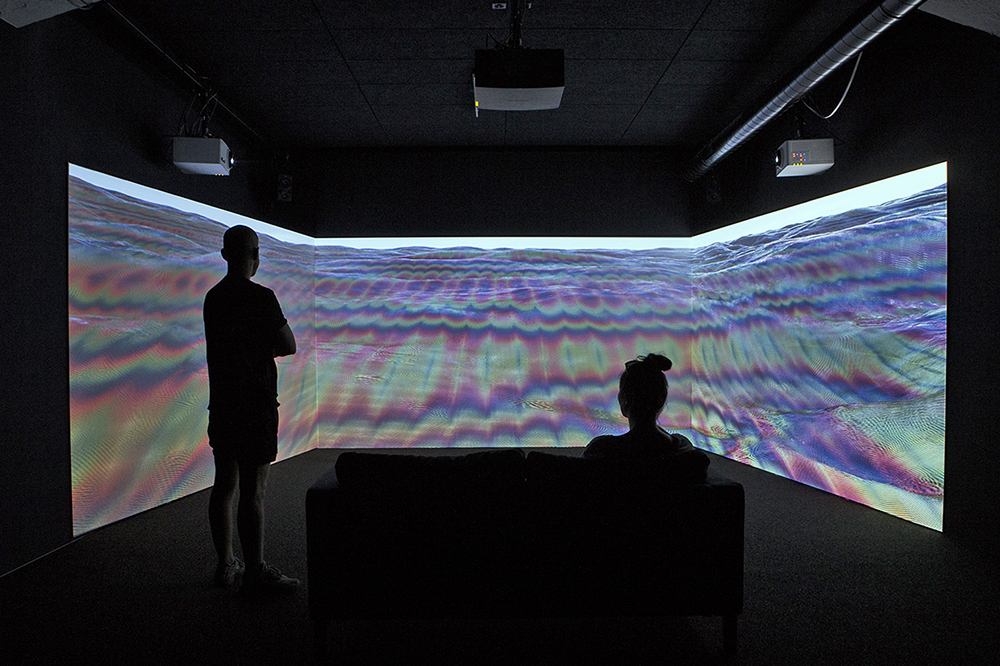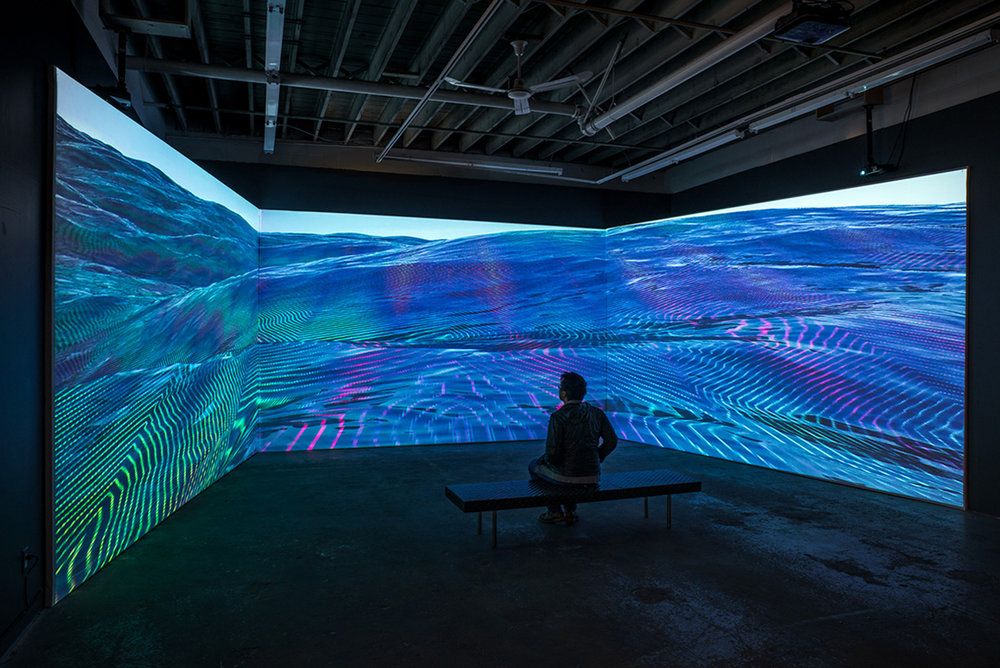 Until April 28, the Interstitial Gallery in Seattle presents "SIGNALS", the collaborative project by artists Nicolas Sassoon and Rick Silva depicting the alteration of natural forms through computer graphics.
Describing their process as "pairing complementary fields of research in computer imaging" Silva and Sassoon execute visual renderings of seascape environments through video installation and sculptural work.
Rooted in this common interest, SIGNALS focuses primarily on immersive audio-visual renderings of seascape environments. The project draws from scientific oceanic surveys, virtual reality and natural phenomena to generate video works, prints, sculptures and installations that reflect on environmental inquiries, concepts of monumentality, and alteration.
Upon entering the gallery, the viewer is enveloped by SIGNALS 1, a-floor-to-ceiling panoramic projection of digitally rendered water. The sculptural work RIPPLES refracts light from the projected video work through an aquarium into the gallery's office. A separate room houses SIGNALS 4, an HD projected video drawing from oceanographic surveys and virtual reality worlds. Through these contemplative works, SIGNALS leaves the viewer questioning their own physicality and sense of place.
This exhibition is presented in partnership with the Disjecta Contemporary Art Center as supportive programming to Chromatic Saturation by Sondra Perry. The final exhibition of the Season 7 Curator in Residence Program lead by Julia Greenway.
More information here
1/ Nicolas Sassoon & Rick Silva, "SIGNALS". Photo: Installation view HeK, 2017.
2/ Nicolas Sassoon & Rick Silva, "SIGNALS". Photos courtesy of Michael Love & Wil Aballe Art Projects.