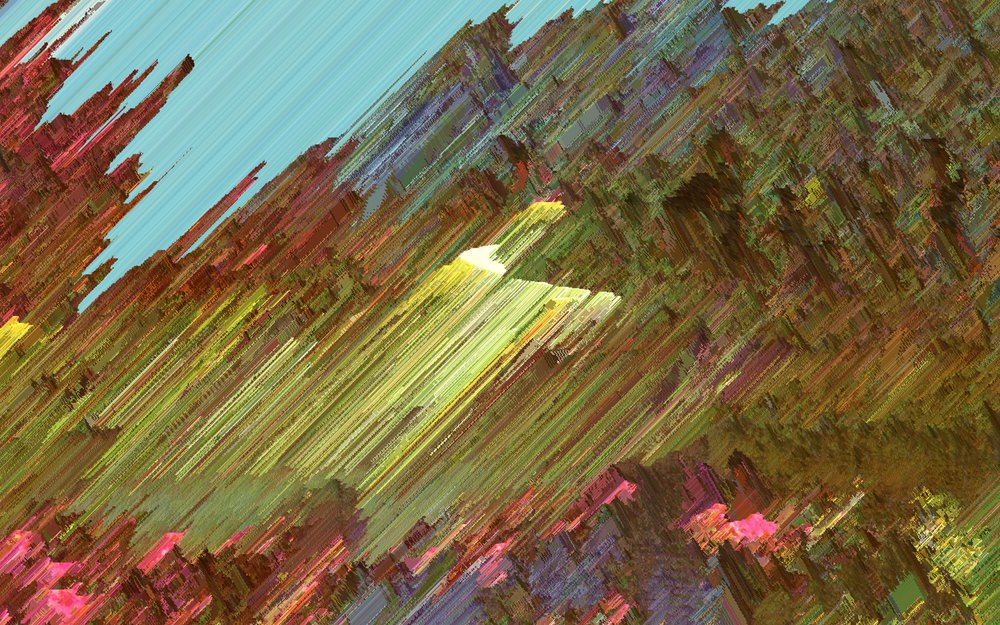 Until Monday 06 August, 2018, the artist Andrea Wolf presents «Weather has been nice», a site-specific multimedia installation which transformed the Skybridge Project Space at Elsewhere in New-York.
Chilean-born interdisciplinary artist living and working in New York, Andrea Wolf creates multimedia installations and video sculptures that explore the relationship between personal memory and cultural practices of remembering. The artist recently joined the ArtJaws collection with Alexandra Darby's monographic curation.
«Weather has been nice» is a series of generative videos in which vintage found postcards are slowly broken down into their basic elements. Mailed from around the world, these commoditized stereotypical landscapes are non-places – at the same time unknown and familiar. A pixel sorting algorithm manipulates the postcards, lunging them into movement, and generating a dynamic glitch that slowly decomposes into the dominant colors. The custom-made application triggers a transformation, creating a system where the elements are continuously regenerating and composing new images. Each postcard reacts differently according to its own pixels. By contemplating these postcards as an instant that unravels, Weather has been nice presents us with images unfolding, becoming images.
By appreciating these postcards as an instant that unfolds, we become aware that landscape, like memory, is not a fixed static entity outside of ourselves, but rather an intimate experience in constant transformation.
For this installation, ten sound artists and musicians have created soundscapes using recordings of the messages written in the postcards. The decomposing images and text highlight the links between landscape, identity, and memory. Over time, descriptions tend to replace experiences, and memory and perception transform landscapes into stories.
Participating sound artists: Audra Wolowiec, Felipe Cussen, Hans Tammen, Martín Gubbins, Merche Blasco, Nicole L'Huillier, Ricardo Luna (Richi Tunacola), Richard Garet, Sebastián Vergara, and Sokio.
More information here
Cover: Andrea Wolf, Weather has been nice, 2017 – Ongoing, Courtesy of the artist.
Image 1 & 2 : Andrea Wolf, Weather has been nice, 2017 – Ongoing Courtesy of the artist.