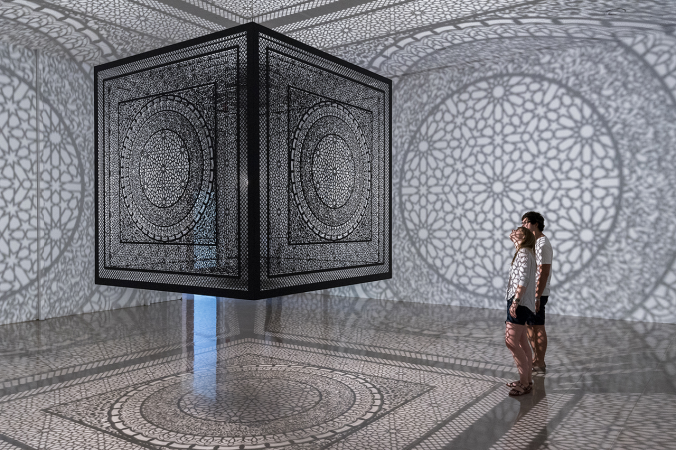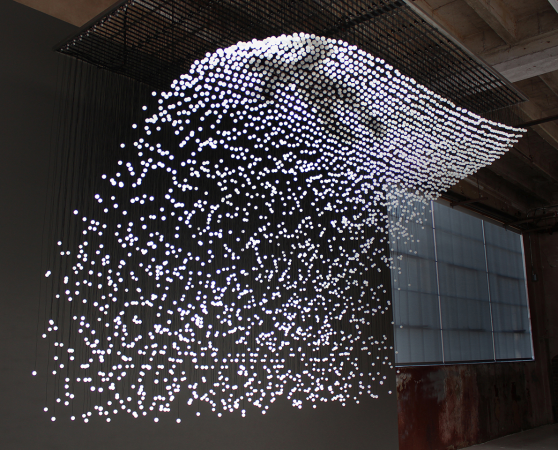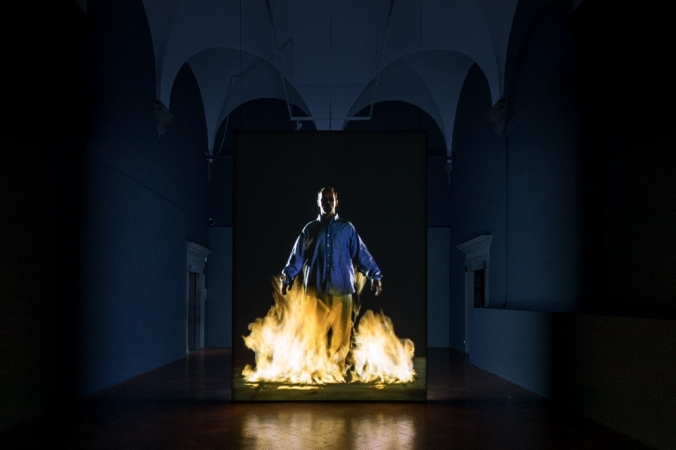 From April 7 to July 22, 2018, North Carolina Museum of Art presents "You Are Here: Light, Color, and Sound Experiences" that features immersive art installations by 14 contemporary artists, including large-scale light works, sound installations, video works, mixed-media room-size environments, and site-specific projects.
The artists in this exhibition employ a diversity of media to create intriguing experiences that engage the senses, activate the imagination, and provide connections between the viewer and the work of art. Some are low-tech, transforming ordinary materials into awe-inspiring visuals, while others make use of experimental new media, fusing art and technology in interactive works that change in response to the viewer.
"You Are Here" presents pioneering video, light, and sound installations by Bill Viola, James Turrell, Janet Cardiff, Olafur Eliasson, and Ragnar Kjartansson. Works by Rafael Lozano-Hemmer, Jim Campbell, and Theo Eshetu use experimental, cutting-edge technology and digital media. Mixed-media installations by Anila Quayyum Agha, Soo Sunny Park, Mickalene Thomas, and Heather Gordon use low-tech, nontraditional materials. You Are Here also takes visitors outdoors in the Ann and Jim Goodnight Museum Park to explore projects by OMAi/Markus Dorninger.
The artists featured in this exhibition create immersive, participatory, responsive, and dynamic works of art. Investigating perception, perspective, and interaction, they create engaging and transformative experiences for the viewer, encouraging visitors to roam— physically, visually, intellectually, emotionally, and metaphorically. This exhibition takes over an entire floor of the NCMA's temporary exhibition galleries and also transforms the landscape in the Museum Park, creating a campus-wide presentation of contemporary experiential art.
More information here
Photo n°1: Anila Quayyum Agha, Intersections, 2013, © 2013 Rice Gallery; Photograph: Nash Baker.
Photo n°2: Jim Campbell, Eroding Wave, 2016, © 2016 installation view, Hosfelt Gallery, San Francisco, Calif.; Photograph: courtesy of Hosfelt Gallery, San Francisco.
Photo n°3: Bill Viola, The Crossing, 1996, video and sound installation, © 2017 Bill Viola Studio LLC; Photograph: Alessandro Moggi, courtesy of the Fondazione Palazzo Strozzi.