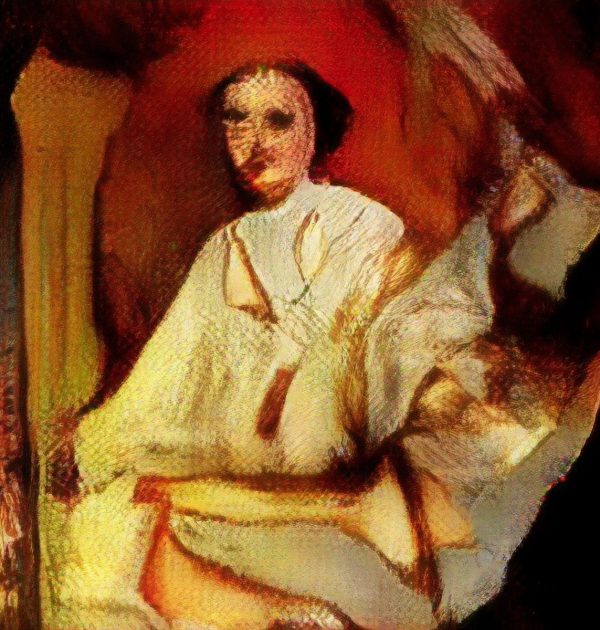 Obvious, Le Cardinal de Belamy, 2018
Obvious is a collective of artists, researchers, and friends, based in Paris. Their work is centered around the use of artificial intelligence to create art. Their approach questions the notion of creativity expressed by a machine and aims to educate on the possibilities brought by this new range of technology, and its societal implications. Their first collection, 'La Famille Belamy', depicts a family of aristocrats, and has been created from the assimilation and analysis of a wide range of artworks made by humans.
This collection offers an insight into the artistic capabilities of an artificial intelligence. The name 'Belamy' is a wink to Ian Goodfellow, the researcher that actively participated in the discovery of the algorithmic models known as GANs, that were used to create these artworks.
ABOUT THE ARTWORK « LE BARON DE BELAMY »
Obvious, Le Baron de Belamy, 2018
"I'll gather the best talents from all around the kingdom. They will work on a new machine. One that can learn by itself. Can you imagine the strength of such a creation?"
Le Baron de Belamy is an artwork created by artificial intelligence, trained on 15 000 portraits from the XV to the XIX century. This artwork is part of a collection of eleven pieces, composing the genealogy tree of the Belamy family. Each artwork of this collection is the reflection of a stage of advancement, and a societal aspect of artificial intelligence. The name 'Belamy' refers to Ian Goodfellow, the researcher that discovered the formula of Generative Adversarial Networks, the class of algorithms used to create this artwork. Along with the physical artwork, a 30 seconds video is provided, depicting the creation process of the artwork from the algorithms' point of view. The artwork is proposed with a golden frame and signed with the formula of the algorithm used for its creation.