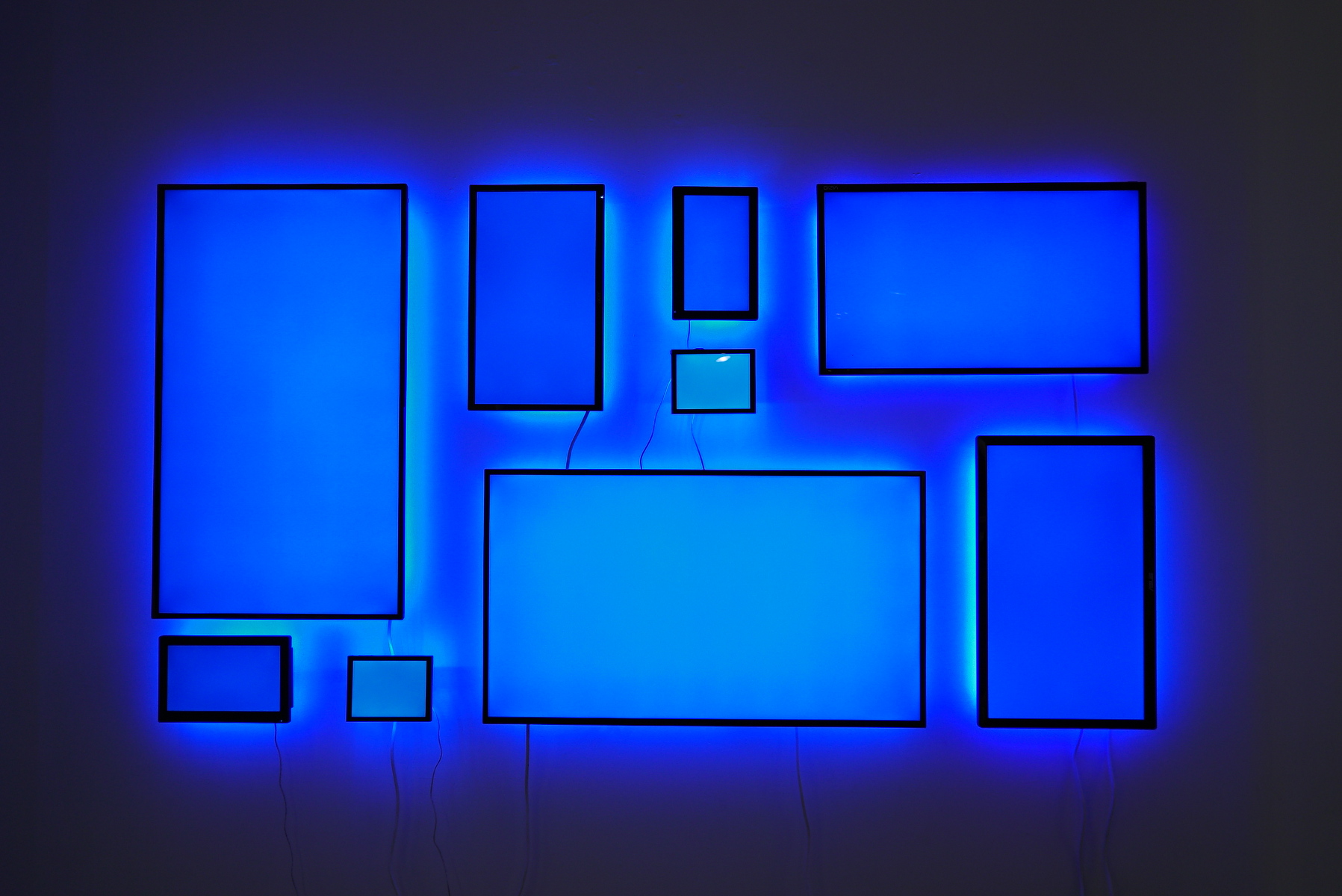 Exonemo, "201704 EOF", 2017
The artists duo Exonemo (by SEMBO Kensuke and AKAIWA Yae) was formed in 1996 on the Internet. Their experimental projects are typically humorous and innovative explorations of the paradoxes of digital and analog computer networked and actual environments in our lives.
Their The Road Movie won the Golden Nica for Net Vision category at Prix Ars Electronica 2006. They have been organizing the IDPW gatherings and "Internet Yami-Ichi" since 2012. They live and work in New York and became a member of the first museum-led incubator NEW INC since 2015.
This artist has been selected by the guest curator Doo Eun Choi as part of her ArtJaws collection entitled "#BODY #morph".
ABOUT THE SERIES "BODY PAINT"
Exonemo, "Body Paint", 2014
"For us, smart phone-affixed contemporaries, to connect to the Internet at all times and in all places is to complete our person. This work uses body-painting to examine our physical definitions, our physicality, in a world of networked information devices. Each work in this portrait series features a person, nude, shaved, and painted entirely in a single shade of color, displayed on an LCD which has been entirely painted in the same color except for the human silhouette on the screen. With these boundaries erased, the background and foreground is a human body and an electronic display body, each covered in the same color of paint, the subject can be said to become the sense of ambiguity and confusion, and a questioning of the definition of whether the individual depicted is a human being or a representation. Along with these formalistic aspects, this work also deals with issues of "existence" within media. The human body has a fairly well-understood longevity horizon, but the longevity horizon for data, and paint, and art remains open to debate. The multiple time scales of body art, figurative painting, and media art engage one another as the work seeks a common ground concerning the present, and existence itself." – Exonemo