The marketplace ArtJaws specialized in media arts offers thematic collections and invites guest curators. Emblematic personalities specialized in the art of new media, precursors or pioneers of digital cultures, they operate, for ArtJaws, limited selections of artworks. ArtJaws' identity is clearly defined by its artwork-oriented mission—to consistently express its expertise through curatorship. Alex Darby (USA), Gilles Alvarez (FR), Klio Krajewska (PL), Emmanuel Cuisinier (FR) amongst others international art curators have already joined ArtJaws with tech arts collections.
#BODY#morph, THE NEW COLLECTION SIGNED BY CURATO DOOEUN CHOI IS NOW AVAILABLE ON ARTJAWS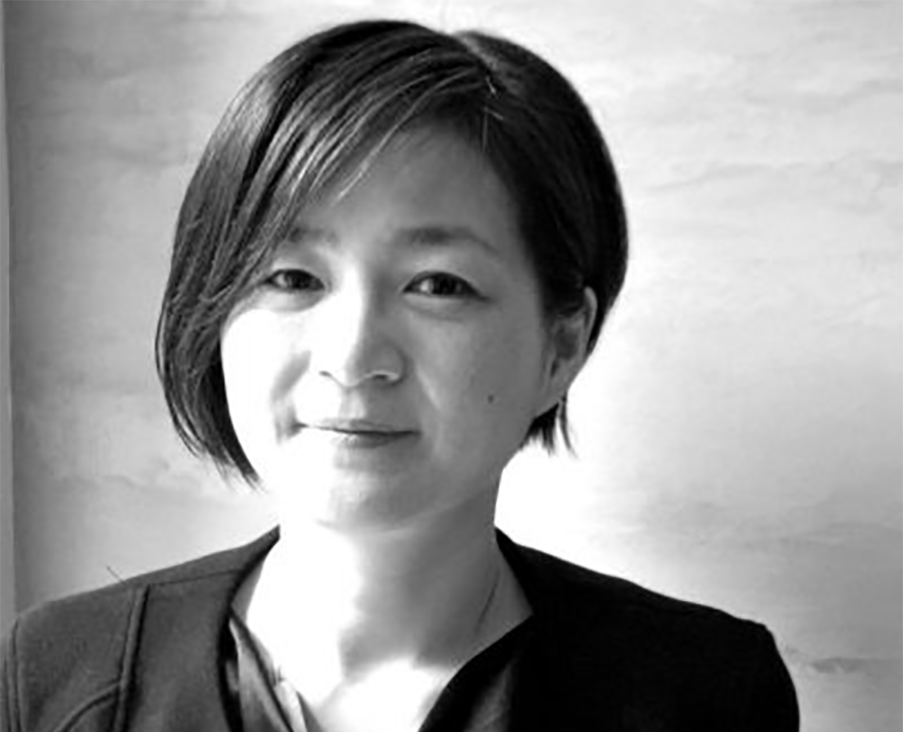 DooEun Choi is currently serving as co-curator of Aurora 2018 in Dallas. Choi has recently worked as art director of Da Vinci Creative 2015/2017 and chief curator of Art Center Nabi in Seoul. Since 2000, she has curated numerous international media art exhibitions in Kyoto, Beijing, Madrid, Geneva, Enghien-les-Bains, Istanbul, Montreal, San Jose, New York, and many other cities across Korea. As a curator, Choi treats the space as a laboratory for experimenting with the types of experience and aesthetics that can emerge from combining and recombining scientific knowledge, artistic practices, and historical narratives.
Choi's recent projects include Neotopia: Data and Humanity at Art Center Nabi (2017-2018), Uncanny Valley?, Da Vinci Creative 2017 at Seoul Foundation for Arts and Culture; Han Youngsoo: Photographs of Seoul 1956–63 at International Center of Photography at MANA (2017); Why Future Still Needs Us: AI and Humanity at Art Center Nabi, QUT Art Museum in Brisbane (2016–17); BIAN, at Arsenal Montreal (2016); Mediacity Seoul 2012 Biennale, at Seoul Museum of Art; and ZERO1 Biennial 2012, at Zero1 Garage.
ABOUT THE #BODY#morph COLLECTION
« My collection is drawn from the list of artists whom I have been worked with and then hashtagged with #BODY and #morph to connect the artists' selected works. It focuses on creating alternative imaginaries for #BODY and #morph where they are uncannily explored by blurring the boundaries between real and virtual, material and immaterial, and visible and invisible through various forms of media arts including digital prints, animations, generative arts, kinetic sculptures, augmented reality art, robotic arts and bio arts. It also brings in a diverse group of artists from various cultural backgrounds that range from the first generation of media artists to new practices of the millennial generation to reassess our physical body and sensory perception to liberate ourselves into imagination. By bringing these artists together the collection rethinks the world we live in, questions our most fundamental assumptions about body and morph, and imagines the possibility of different values in the age of augmented life. » Dooeun Choi
The #BODY#morph collection counts already 68 artworks from 9 recognized international artists: Claudia Hart (USA), Exonemo (Japan), José Carlos Casado (Spain/USA), Kim Joon (Korea), Minha Yang (Korea), Sachiko Kodama (Japan), Tal Danino (USA), TeamVOID (Korea), Ujoo+Limheeyoung (Korea).
FOCUS ON 4 ARTWORKS FEATURED IN DOOEUN CHOI'S COLLECTION #BODY#morphs!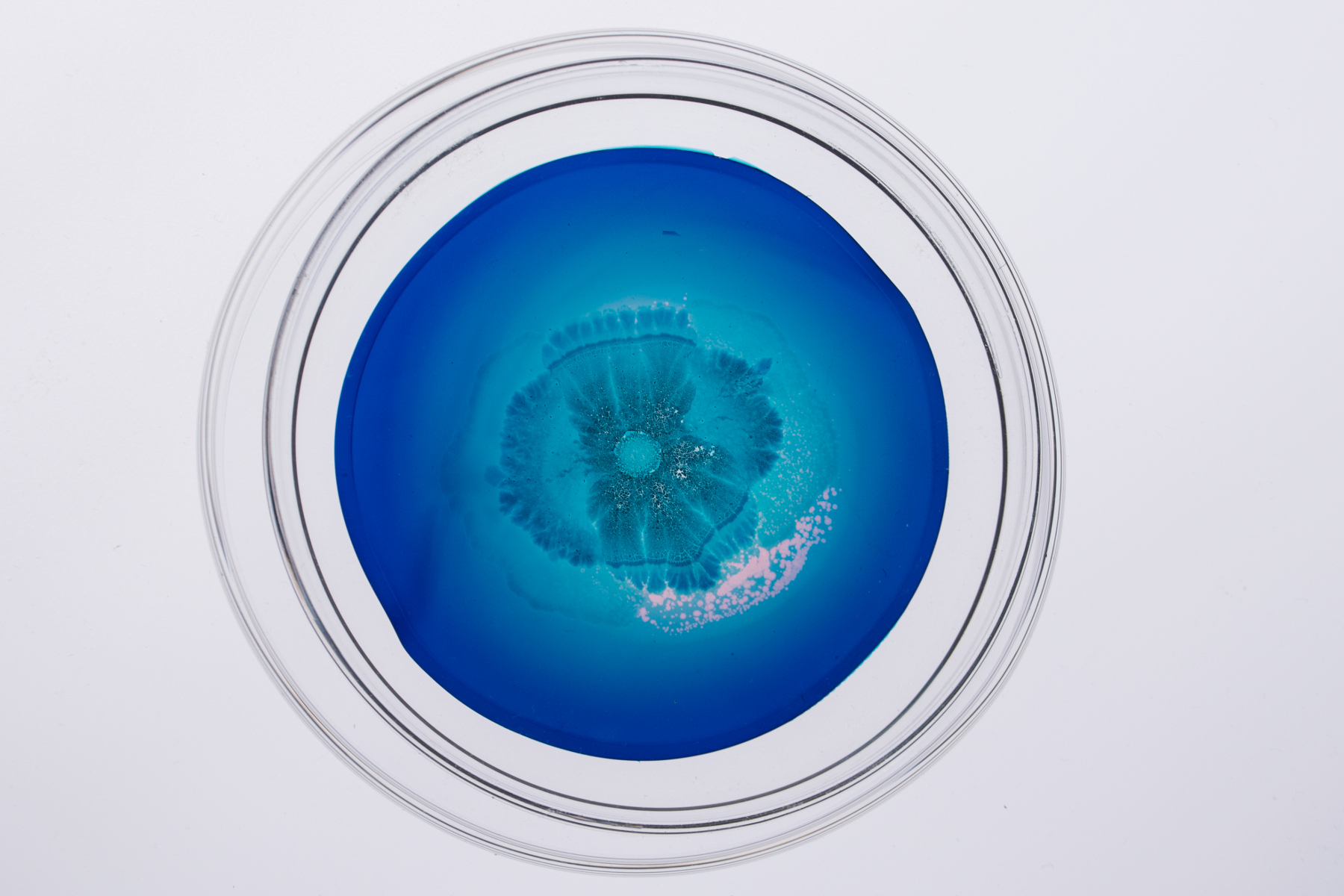 TAL DANINO, Microuniverse, 2017, Bio-art
Microuniverse is an arrangement of bacteria preserved in glass dishes. Tal Danino is an interdisciplinary artist exploring the emerging field of synthetic biology. His work transforms living microorganisms like bacteria and cancer cells into bio art works using various forms of media.
More information about this work here
KIM JOON, Gone with the wind, 2011, 3D digital animation
Kim Joon, one of Korea's most notable young contemporary artists, creates digital artworks exploring themes of desire, memory and youth using porcelain and tattoos as his digital mediums. He fabricates compositions out of tableware, fragments of idealized nudes, and icons of Western pop culture, including guitars, cars and guns. A master of the computer software 3D Studio Max, Kim successfully juxtaposes old and new, traditional Asian motifs and new media.
More information about this work here
TeamVOID, Robot in the mirror, 2016, robotic installation
TeamVOID is the collective formed by new media artists Junbong Song and Jaehyuck Bae that creates systematic artworks involving technologies. In their works they attempt to understand properties of general systems, applying their various backgrounds in engineering and arts into aesthetic explorations. Therefore, they design experimental systems and create them as interactive media, kinetic and light sculptures.
More information about this work here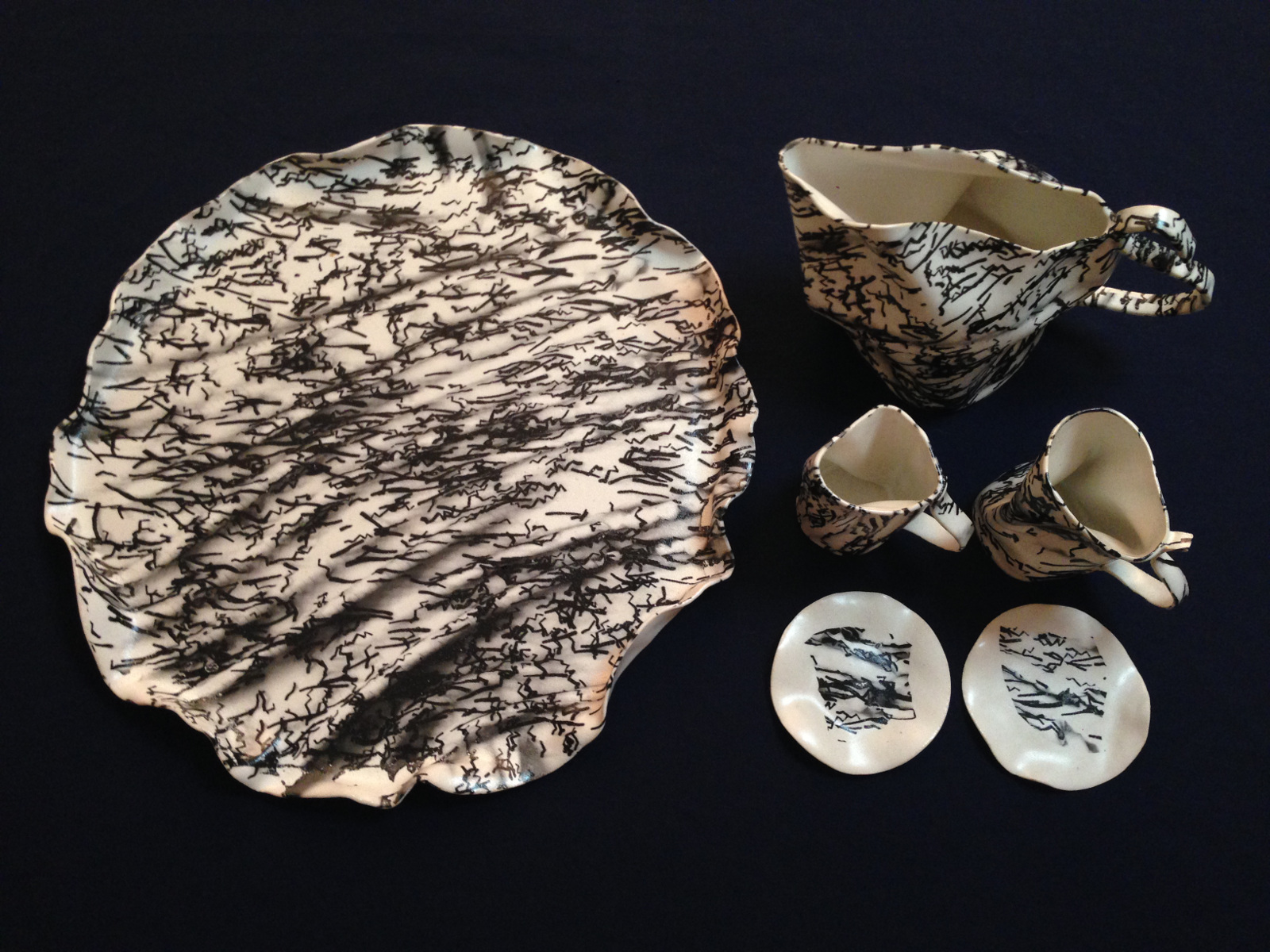 CLAUDIA HART, Alice tea set, 2014, Porcelain, iPad, augmented reality app
Alice Tea Set is a porcelain tea set on which one can view a naked sleeping odalisque, through a smart device by using custom augmented-reality software. This sleeping figure tosses and turns, apparently lying across one's meal. Artificially intelligent insects crawl in endlessly mutating patterns over both the illusory figure and your solid, "reality" food. The technology behind the Alice Tea Set is a special augmented-reality app, designed by the artist, created to accompany the miniature tea sets, hand-thrown by Kimi Kim.
More information about this work here